All right, reader. I'll suck it up.
I haven't written a single thing in here for over two months–that's like ten posts I need to catch up on. You're probably thinking that I'm too lazy and can't even set my writing goals straight. And you know what? You're probably right.
But since taking a creative hiatus (you and I both know that that is just a fancy reword for laziness), I busied myself with another goal, one that I frequently forget to go into detail when I write about my daily life.
You see, I'm an online English tutor for RareJob–the same company I work for so I can pay for my monthly Netflix subscription. RareJob is a company that offers online English tutorial services to Japanese students, and most of its tutors work from home.
I am a tutor, but since I work for them full-time as a barmaid (that's not what I really do, my real job is pretty insignificant) I get to teach lessons in the office, which is pretty great. The internet connection is pretty superb.
And as a tutor, I have full control of how many lessons I want to have in a day. One lesson slot? Topnotch! Six consecutive slots without restroom breaks in between? Difficult but doable! It's like playing an addictive numbers game.
I started out with at least two lessons each night last January. The reason I started teaching again after resting for several months was because 1) I'm about to reach inactive tutor status and 2) I really needed the money. I figured that I can devote my free time after work to a little money-making scheme.
As someone who is inherently opposed to talking to people, I find the whole RareJob lesson system fun and interesting because 1) I get to discuss important topics with students and 2) I learn interesting stuff from some of them. Plus, it helps that each class only lasts 25 minutes and that I don't have to make physical contact with any of them. (Please don't judge.)
I'd recommend RareJob to anyone who wants to earn extra moolah without the extra pressure or stress. There aren't a lot of responsibilities and you can do it whenever you want, which is pretty neat if you're a chill person who does not like to be restricted by time. Just make sure to open at least one lesson slot a month so you can maintain your active tutor status. You don't want tutor support e-mailing you every month with warnings of your impending inactivity.
If you have more questions, let me know so I can answer them or just click on the links below. The site is pretty easy to navigate and I'm sure you'll get the answer to your query in no time.
Tutor application (if you're down for it, no pressure):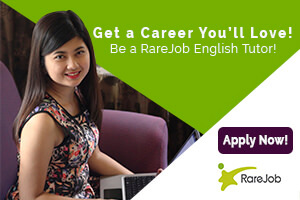 Let me know if you tried it and maybe we can swap interesting tutor stories. I'm always down for a nice chat with fellow tutors. 🙂